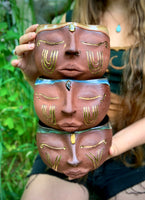 Welcome to Mad Ceramics!
Each piece of work is handmade in my home studio located in Southern Oregon. I strive to make each item a piece of functional art that you can use in your daily life, to bring a little bit of the natural world into your home. 
My Story
Shop Sold Out?
If you don't see any items in my shop, or listings are marked as "sold out" that means that I am hard at work making a new batch of work! To be notified of when the next shop restock will be subscribe to my mailing list down below! You can also check the FAQ's page to learn how the shop restocks work. 
Literally my new favorite piece of dish ware. I am 100% determined to own an entire set of dishes made by Madalynn. The design is exquisite, the glaze is gorgeous, and the shape is so satisfying to hold. Customer for life. 

Mo
These mugs are absolutely beautiful in picture, and even more so in person! They were shipped quickly, arrived in perfect condition, and are already my new favorite mugs for daily use. They are ergonomic and comfortable to hold, and make me feel like a nature goddess. Highly recommend!

Jay
It's not surprising that this shop sells out within minutes - Madalynn's work is beautiful!

Jenn